A Message From the Executive Director:
On behalf of the Outdoor Lab Foundation's Board of Directors and Staff, I wanted to reach out and provide some information regarding our Foundation as we navigate the local impact of this global crisis. The donors, supporters, alumni and Jefferson County community are the greatest partners the Outdoor Lab Foundation could ask for. All of you are even more important during these uncertain times. You have invested in our mission to ensure every student can attend this life-changing program.  I assure you that our work is continuing now and will continue through these uncertain times because that mission is important now and will be even more impactful as we overcome this challenge.
First and foremost:  We are proud to partner with Jefferson County Public Schools and follow their leadership to ensure the safety of the students and supporting educational staff.  We are following our local and national leadership to take the necessary steps to ensure the safety of our staff and our community.
We are mobilizing staff to connect, inform and fundraise in a virtual world, as we protect the legacy of the Outdoor Lab program for decades to come. Be on the lookout for upcoming announcements regarding virtual events, uplifting stories from Outdoor Lab alumni and how you can continue to be involved and support our work.
Thank you for your continued support. As we like to say, all students may walk the same trail at Outdoor Lab, but they each leave a different footprint. We are honored and humbled as you continue to walk with us.
For information regarding the Outdoor Lab program, please refer to your home school.
Stay healthy and safe,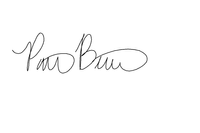 Paige Brophy
Executive Director