School's Out for Summer
Lindsay Clark
As many of you know, Outdoor Lab has been enriching the lives of sixth grade and high school students in Jefferson County for more than 61 years. The positive impact of creating educational experiences outdoors is seen and heard from the more than 6,000 sixth grade students and 1,000 high school leaders that attend Outdoor Lab each school year. But… what happens at the Lab Schools during summer? We're glad you asked because trust us, our work never stops.
The Outdoor Lab Foundation has an amazing partnership with one of our Community Supporter Sponsors, Avid4 Adventure. Long before they became a Community Supporter Sponsor, Avid4 Adventure fell in love with our mountain sites. This is the fifth year that the Colorado Mountain Camp for 7th-10th graders will be held at Windy Peak, which is located on more than 200 acres and is surrounded by thousands of acres of National Forest. Camp for 1st-6th graders will be held at the Mount Evans Outdoor Lab site, which includes 500 acres of private land equipped for younger kids to fully immerse themselves in nature. Deemed an "unforgettable experience" by Outside Online, you can't help but be inspired by the passionate staff that instill "confidence and a love of nature" in all who attend. A perfect combination of experience, education and adventure; the counselors are truly one of a kind and can attest to the unforgettable experiences the camps offer year after year. Plus, the fees they pay directly support the Outdoor Lab Program. Sounds like a pretty great use of our sites, right?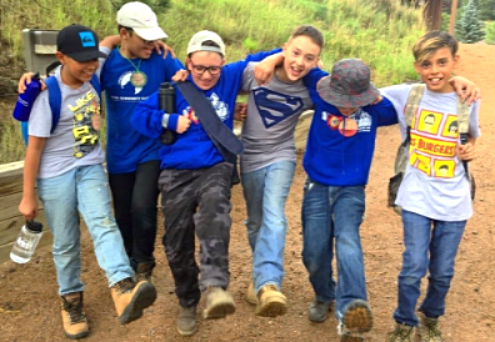 Camp makes kids feel more confident, helps them make new friends and encourages them to try new things. The Colorado Mountain Camps include wildlife centers, on-site rock climbing, mountain biking, kayaking, stand up paddleboarding, backpacking and SO MUCH MORE. Truly a safe haven for every camper to learn how fun and empowering it is to adventure outdoors.
So not to worry, clearly the Outdoor Lab sites are used to the best of their abilities during summer and our community of students continue to find passion for the outdoors. School may be out for summer, but Outdoor Lab and our partners like Avid4 Adventure never stop inspiring kids to get outside. Check out Avid4 Adventure's page for more info on Colorado Mountain Camps happening this summer!