After Dark 2020: Back to Our Roots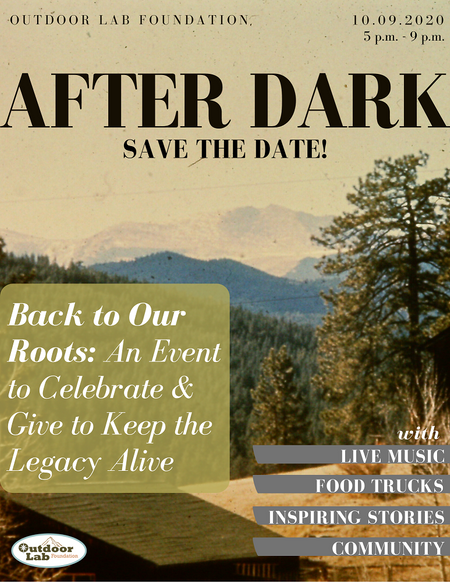 Attention! Attention! After Dark 2020 is still on for this year, and it's going to be better than ever! 
This year is off to an unprecedented start, but Outdoor Lab is here to stay, as it always has been, for generations to come. We are hosting After Dark this year to bolster community support and continue to ensure Outdoor Lab will remain a priority in Jefferson County.
And this year, it's versatile. Want to attend and enjoy After Dark with live music, food trucks, auctions and social distance? We have a plan for that. Want to watch it from the comfort of your own home and still participate in the auctions? We have a plan for that. The long and short is, SAFELY, THE SHOW MUST GO ON! 
Who:
You + friends + family + OLF staff, Board of Directors + OLF supporters & followers + community members
What: 
Our "not-so-traditional" nonprofit annual fundraiser (and FRIENDraiser), celebrating a 63-year old program. Includes food trucks, live and silent auctions, games, signature drinks, wine grotto and live music. 
And for the 2nd year in a row, we welcome Marc Sallinger of 9NEWS as our MC! Marc attended Outdoor Lab as a 6th grade student and we are THRILLED to have him return!
When:
October 09, 2020 | 5:00 p.m. - 9:00 p.m.
Where:
Flatirons Community Church of Genesee (offers virtual and in-person options to all guests). 24887 Genesee Trail Rd, Golden, CO 80401. Click here for directions.
Why: 
Outdoor Lab is unique and incredibly special because of the community surrounding it. This program has become a "rite of passage" for all Jefferson County residents as well as a family tradition. We invite our current supporters and new people into the fold. Celebrate the tradition with us on an unforgettable evening. 
Purchase tickets (virtual or in-person) today!
Purchase tickets here. **All in-person tickets are able to be exchanged for virtual tickets (with difference refunded) upon request**
Curious about what to wear? 
We pride this event on being "Colorado casual", meaning boots and blue jeans are encouraged! Need suggestions? Visit our style guide! Click here to view it.
2020 Sponsors- we couldn't do it without you!