Help Us Welcome Bryan Martin, OLF's New Executive Director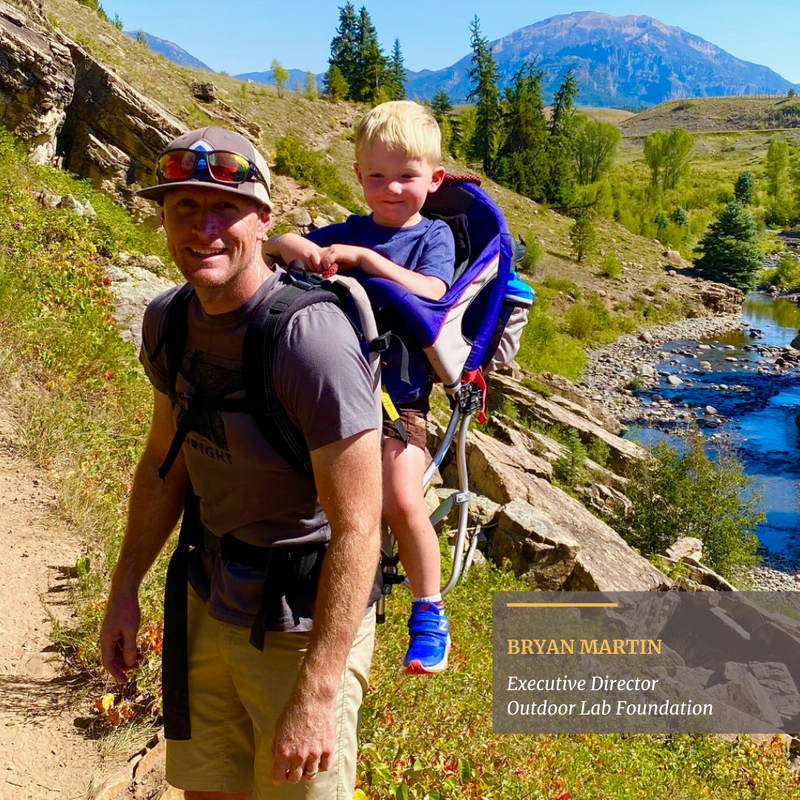 In January, the Outdoor Lab Foundation welcomed Bryan Martin as our new Executive Director. Bryan brings nearly 20 years of experience in nonprofit leadership, fundraising, conservation and recreation advocacy to OLF. Most recently, Bryan was the Executive Director of Big City Mountaineers, a position he held for the past five and a half years. Prior to that Bryan held increasingly responsible positions with The Nature Conservancy, The Continental Divide Trail Coalition, the Colorado Mountain Club and the Land Trust Alliance. His entire career has been dedicated to ensuring both Colorado and the country's magnificent natural lands are protected and that everyone has an opportunity to enjoy them.
Outdoor experiences have been fundamental to Bryan's life and he hopes to bring his passion for the outdoors to OLF so Jeffco students, regardless of background, can have transformational experiences at Outdoor Lab and that the school sites remain protected in perpetuity for future generations of students.
Bryan is delighted to be on the team and looks forward to taking OLF and the Outdoor Lab Program to new heights. "I know how powerful time outside can be to one's self. Camps and wilderness trips can be some of the most transformational forms of experiential education we can offer and fosters profound personal growth in our students. Beyond the lessons in outdoor skills, natural history, communication, teamwork, and leadership that are part of virtually any Outdoor Lab experience, there is an underlying process through which a visit to site is rendered meaningful in the lives of the participants. I want to make sure these experiences enhanced and sustained."
Bryan has a BS from Penn State University in Recreation and Park Management and an MA in Nonprofit Management from Regis University. Bryan's wife, Sally, teaches at Vanderhoof Elementary and together they are busy raising three boys.
To reach Bryan, you can call 720-403-8241 x1001 or email him at bryan.martin@outdoorlabfoundation.org.