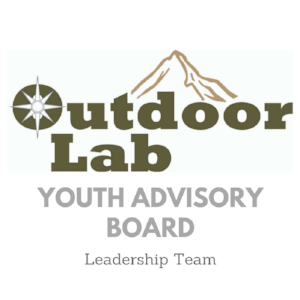 What is the Outdoor Lab Youth Advisory Board?
The Outdoor Lab Youth Advisory Board is a group of young leaders in the community advocating for Outdoor Lab and are innovating new ways to make an impact on Outdoor Lab in the community and around the world. The Youth Advisory Board provides it's members the chance to lead projects that create change, build their resume, and engage with professional contacts to benefit their futures.
The Youth Advisory Board will be responsible for leading two stewardship projects at the local and global level which create community involvement and volunteerism, as well as advocating for the program. No one knows better than you, our program graduates, how to make an impact and inspire others in both your community and nationwide to support a beloved program like Outdoor Lab. This volunteer position is a chance for Outdoor Lab to give back, and we want to use your passions and interests to create an impact for future generations. 
Projects will include these four pillars:
Marketing
Recruitment
Environmental & Business Project Management
Fundraising
What benefits do I receive for being on the Outdoor Lab Youth Advisory Board?
The opportunity to continue to give back to Outdoor Lab
The opportunity to work in a team 
Build your resume
Make professional contacts 
Enhanced presentation, communication, project planning, project implementation and leadership skills
Position Summary for the Leadership Team of the Outdoor Lab Youth Advisory Board
This volunteer position will be made up of four passionate people. The leadership team will be responsible for recruiting 8 members to join their team on the Outdoor Lab Youth Advisory Board. You will be a mentor for the entire youth advisory board over the year term. A term is one year from the date you join. The leadership team will work closely with both the foundation and the site staff on communication, project decisions, project progress, volunteer recruitment, etc. 
Responsibilities:
Recruit 8 members to join your youth advisory board
Attend and assist in planning and leading monthly youth advisory board meetings
Present 4-6 project ideas to the youth advisory board to lead that follow the four pillars stated in the description of the youth advisory board 
Lead the youth advisory board in presenting the final projects the board decides to implement to the Outdoor Lab Foundation and site staff
Lead the youth advisory board to execution and delivery for all projects selected 
Qualifications:
Must have been an intern at either Mount Evans or Windy Peak in the last 3 years. 
Previous experience in leadership
Passion for stewardship
Passion for Outdoor Lab
Passion for leading and coordinating projects
Highly recommended by a staff member at the internship site
The application deadline is January 7th, 2018 11:59 p.m. MST. If selected for an interview, interviews will be held on February 1st, 2018 at 6 p.m at the Jefferson County Public Schools Building, 1829 Denver W Dr. Golden, CO 80401. The leadership team will be announced February 6th, 2018. The first meeting will be held February 13th, 2018 at 6:30 p.m. Location TBD.