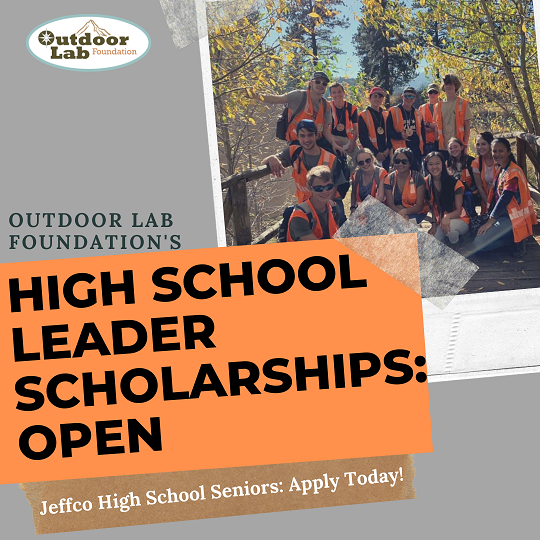 2020 Outdoor Lab High School Leader Scholarship
Purpose:
The Outdoor Lab Foundation awards high school seniors who have served as High School Leaders at Outdoor Lab the opportunity to apply for scholarships to further their education.
Criteria- students must meet ALL of the following:
Must be current high school senior graduating from any Jefferson County School.
Must have served as a High School Leader for the Jefferson County Outdoor Lab program (at Windy Peak or Mount Evans Outdoor Lab) for a minimum of one full week. Preference is given to those that have served more than one week.
Must be applying for admission to any private or public vocational training program, college or university.
Guidelines: Scholarships will be awarded on an annual basis and disbursed in August of each year. 
Amount: Two scholarships will be awarded to two different students. Each scholarship is $2,000.
Procedure:
Submit contact information by completing the form on the bottom of this page.
Email ALL completed required documents to scholarships@outdoorlabfoundation.org. This includes a letter of recommendation, proof of completion of Outdoor Lab High School Leader experience, optional supplemental documentation and answers to two personal statements. Incomplete applications will not be considered. Please see below for more details.
Deadline: The application deadline is February 20th, 2020 by 11:59 p.m. Winners will be contacted the first week of April. Applications will not be accepted after February 20th.
Renewal process: This scholarship is not renewable. Only high school seniors intending to enroll in any private or public vocational training program, college or university are eligible to apply. Previous scholarship recipients cannot re-apply.
Application
To be fully considered for this scholarship, please complete ALL application requirements. Please note, the application as a whole is taken into consideration before our committee makes a decision.
A completed application includes ALL of the following by February 20, 2020, 11:59 p.m.:
A completed contact information form (below)
A letter of recommendation from any Jeffco Educator (counselor, teacher, Outdoor Lab teacher, coach)
Proof of successful completion of at least one week as a High School Leader

Please submit the letter you received at the end of your week as a leader. This letter is from the site principal at the site where you completed your week.

Personal statements submitted via essay or video-- see

requirements (below)

Please describe the overall impact of the high school leader program and how you believe it specifically impacted you.
What are your career goals and how will your experience as a high school leader play into your future endeavors or career plans?

If writing an essay, each answer must be between 500-750 words.
If submitting a video, full video must be between 2-3 minutes and clearly answer both of the above questions. 

OPTIONAL but HIGHLY encouraged: Students can include one piece of supplemental documentation of their choice with their application (another letter of recommendation, a transcript, proof of extra-curricular involvement or community involvement)
Other notes:
Creativity is highly encouraged. 
We're looking for ways students have demonstrated stewardship of self, community and environment through all components of the application.
Some weight given to inclusion of supplemental documentation- use this as an opportunity to show us how else you lead in your community, school, regarding the environment or with your family.
Some weight given to students who have served as a High School Leader more than once.