Join Our Monthly Giving Program: The $5 Club!
$5 can have a significant impact here at Outdoor Lab Foundation. It's reliable funding we can count on each month.  By signing up, you're saying to the community: this is important.  That Outdoor Lab and its legacy matters. Caring for and guiding our students to care for the outdoors, matters.
What does $5 do? 
Funds field study journals for 10 students
Buys an intern their round trip to the sites each week
If 5 people join, one Jeffco student attends Outdoor Lab
What perks come with joining?
During COVID-19, weekly activity ideas for you & your family on outdoor-related ideas
Access to a guided tour of Outdoor Lab
A 50% discount on After Dark tickets, our annual not-so-traditional fundraiser
Access to early and exclusive content via a quarterly email
An official $5 Club sticker (to come at a later date)
Access to a guided tour of Outdoor Lab
Signing up is easy, and comes with perks. Become a part of this unique Jeffco group today!
How to sign up:
1. Go to our Donate page

2. Under "Other", enter the amount you'd like to donate on a monthly basis.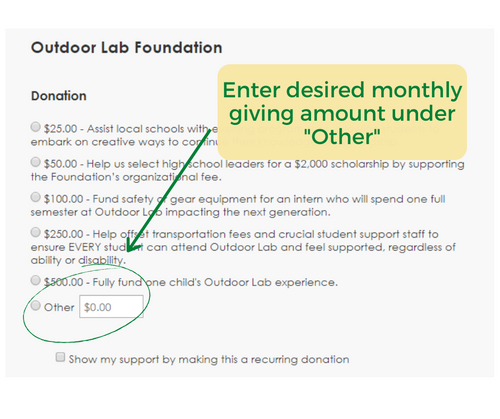 3. Next, click "Show my support by making this a recurring donation."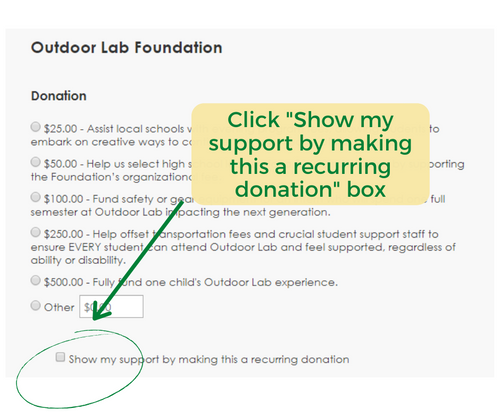 4. This will enable a dropdown menu- select your frequency and start date.
5. Continue scrolling to enter all other requested information.
6. This will take you to the bottom, where you'll be prompted to enter your payment.