Welcome to Joyful Soul Counseling, our newest community supporter!
A big welcome to Joyful Soul Counseling as Outdoor Lab's newest Community Supporter Sponsor. Be sure to check out their website for all of their services. 
Click here to learn how your business can be featured next month.

Have you marked your calendar for the Because Of You Breakfast?
The Because Of You Breakfast honoring our first class of the Outdoor Lab Legacy Society inductees is right around the corner. Join us May 16th  at the Arbor House from 8 a.m.-10 a.m. with special guest speaker, Dr. Jason Glass. 
For more information and to RSVP today, click here. 
Last month Newmont Mining Corporation spent the day at Windy Peak!
Last month Newmont engineers provided substantial site support through environmental stewardship projects with a day spent volunteering at Windy Peak Outdoor Lab. Participants completed erosion abatement near the brand new aquaponic greenhouse classroom, provided safety for the initiatives course by placing mulch in the designated learning and leadership areas and did fire mitigation work near the hydrosphere trail. The meaningful work that the Newmont team provided Outdoor Lab also had a WONDERFUL impact on students from Slater Elementary School and Glennon Heights Elementary School. Students saw community members participate in environmental stewardship service in their learning environment! It was an incredible day.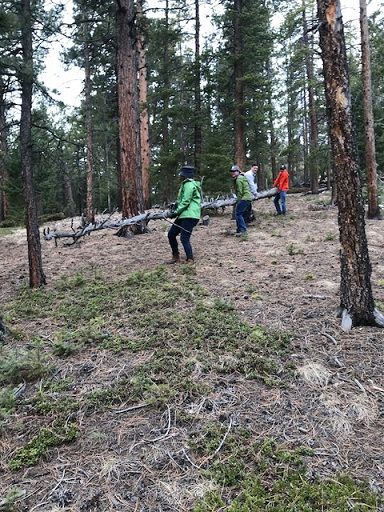 Your birthday is important... but now you can make it matter more!
Have you seen your friends donating their birthday to their favorite charities on Facebook? We want to help make your birthday matter more! We have put together a step by step guide on how you can donate your birthday to Outdoor Lab in five clicks or less. Visit our website today to learn more and pledge to donate your birthday today!
Join our team as an Outdoor Lab Ambassador!
An Outdoor Lab ambassador is a unique community member that has a passion for Outdoor Lab. This is a short term contract position with the Foundation that will help support the program, advocate for the Lab Schoools within the Jeffco community, and assist with Foundation marketing efforts. 
For more information and the full job description, please click here.