After Dark 2021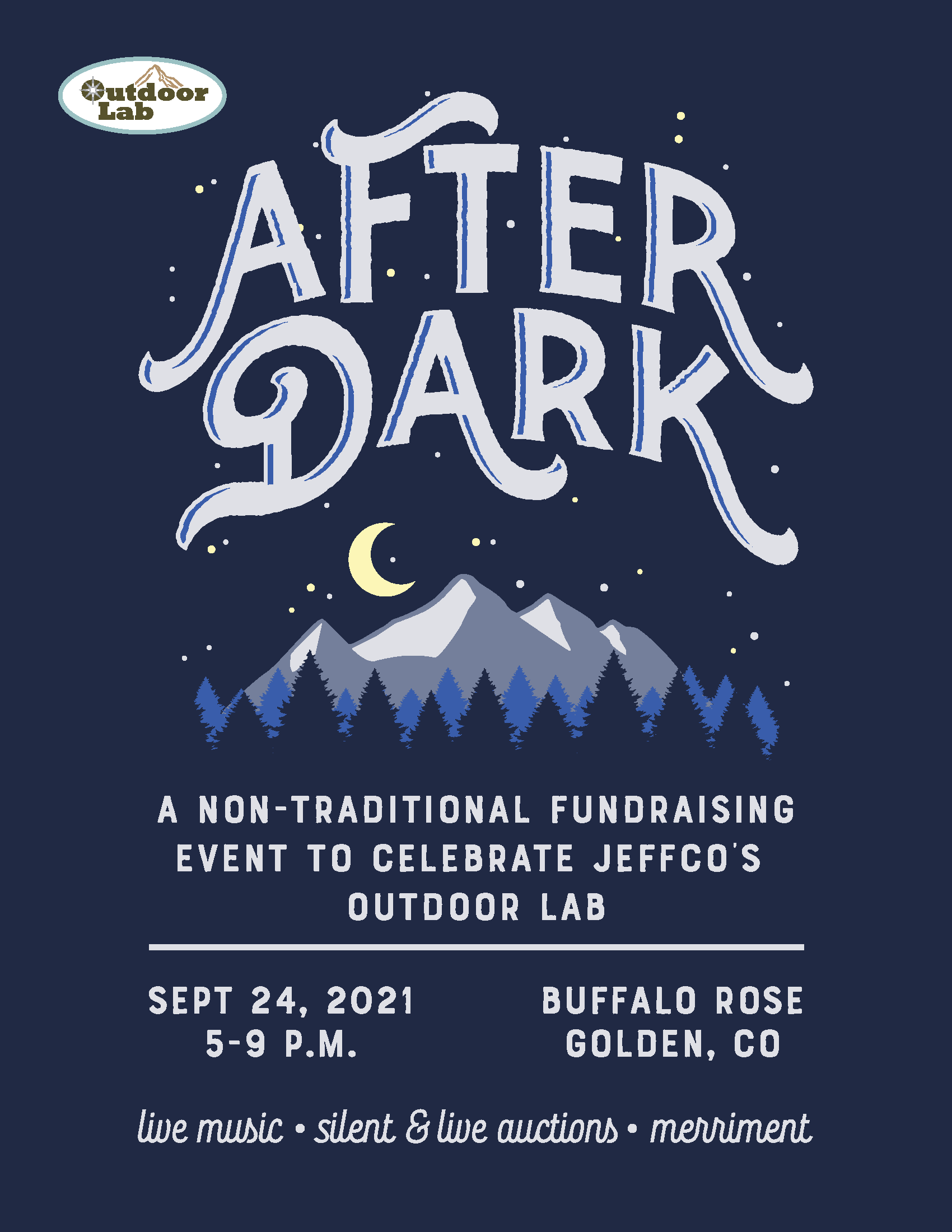 Full Event Information
Who:
You + your crew + Foundation staff + Mount Evans, Windy Peak site staff
"I love this event because it brings all people together- those that know Outdoor Lab and those that don't. It's like everyone can see how important it is for this community and share in the vision of keeping it alive." - Anna, Outdoor Lab Alum and Jefferson County native
What: 
A "not-so-traditional" nonprofit annual fundraiser (and FRIENDraiser), celebrating the Outdoor Lab Foundation and program.
This is a night of merriment and celebration, complete with live music, local food, signature cocktails, and a live and silent auction.
When:
September 24, 2021 | 5:00 - 9:00 p.m.
Where:
The Buffalo Rose
1119 Washington Ave. Golden, CO 80401. Click here for directions.
Why: 
The Outdoor Lab Foundation works to ensure ALL Jefferson County, Colorado students attend Outdoor Lab, regardless of ability or disability, including the ability to pay. Sending kids to Outdoor Lab has become a "rite of passage" for all Jefferson County residents and a family tradition. Celebrate the tradition with us at this unforgettable event. 
Host:
We are thrilled to have Marc Sallinger, of  9NEWS in Denver, emceeing this event!
Born and raised in Golden, Marc's home has always been Colorado. Marc loves to mountain bike, ski, hike, and travel. Ever since he was a young boy, he knew he wanted to be a reporter. Marc would spend hours looking out through the bedroom window to see if he could spot anything that he could film and send to the local television stations. The day he finally got his video on-air was the day he realized he wanted to spend the rest of his life telling others' stories.
In his two years in Denver, Marc has reported on the pandemic, wildfires, protests and everything in between. Marc enjoys telling stories all around Colorado, but always loves a day outside in the mountains reporting on an interesting topic and meeting cool people. 
Marc moved back home to Colorado in June of 2019 from Knoxville, Tennessee where he spent two years working as a reporter at WBIR-TV. Marc loved his time in Tennessee, focusing a lot of his reporting on the opioid epidemic.
Marc graduated from the University of Southern California. During college, he interned for 60 Minutes and the TODAY show in New York, CBS Evening News in Washington D.C., NBC Nightly News in Los Angeles and KCNC-TV in Denver. Those opportunities helped Marc learn from some of the best in the country how to tell others the stories that matter to them.