Congratulations to Our 2020 High School Leader Scholarship Recipients
By: Jennifer Pierce
The Outdoor Lab High School Leader Scholarships are quite competitive. We were impressed with the applicant pool this year- 42 eligible students applied! In its second year, this unique scholarship awards two high school leaders who have served at least one week at an Outdoor Lab site with a scholarship for higher education (any private or public vocational training program, college or university of their choice). 
Learn more about the guidelines to apply.
Now let's meet the two winners!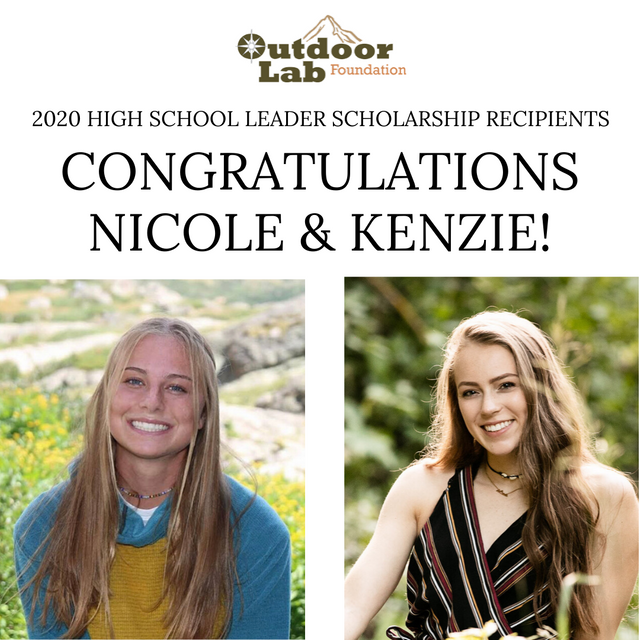 Name: Nicole Matuszynski
High School: Chatfield Senior High
Nicole attended Outdoor Lab four times; first as a sixth grade student, then as a High School Leader and finally as an Intern in the Spring of 2019. "Outdoor Lab is such a special program which provides a unique opportunity for kids to get away from the countless distractions in life," she says. "[Outdoor Lab] allows for genuine connections and bonds to be formed through laughter and pure happiness!" Nicole felt honored and ecstatic when she found out that she received the scholarship. Next, she plans to attend Montana State University to major in Environmental Engineering.
 
Name: Kenzie O'Neil
High School: Columbine High School
Kenzie attended Outdoor Lab three times; once as a sixth grade student and twice as a High School Leader during her sophomore and senior year. "I will always remember the relationships I built with the students, leaders, interns and faculty at Outdoor Lab," she says. "It was amazing being able to learn and teach in one of the most beautiful places." Upon finding out she was a winner, Kenzie was excited and felt blessed to have help towards her college career. Ironically, she also plans to attend Montana State University in the fall for business and entrepreneurship.
Outdoor Lab Foundation wants to congratulate you both again, for being fabulous stewards to both our community and the environment. We hope you continue to share your passions with the world. Good luck next year!