High-Potential Week at Outdoor Lab
Lindsay Clark
The Foundation had a chance to visit both Windy Peak and Mount Evans sites at the end of high-potential week; an extension of the Outdoor Lab experience that aims to inspire students who perform above and beyond in the classroom each day. Limited to a couple of hundred individuals who've been nominated by their teachers, students spend their first week of summer break participating in this intensive program.
With a total of five classes offered at both Mount Evans and Windy Peak, students can take the time to focus on a single topic in one class for the entire week. From Environmental CSI and Aquatic Field Biology to Search and Rescue, Art Adventure and even Astronomy; students are challenged to grow their knowledge in these diverse topics and are given tools to become active community members, both locally and globally. Surrounded by their friends, fellow students and peers, it was obvious that the kids were thrilled to attend Outdoor Lab again. Who wouldn't be? You couldn't help but notice the excitement as they shared their projects and explored the Lab School sites with family members.  This experience is yet another example of how Jeffco provides authentic learning experiences to its students.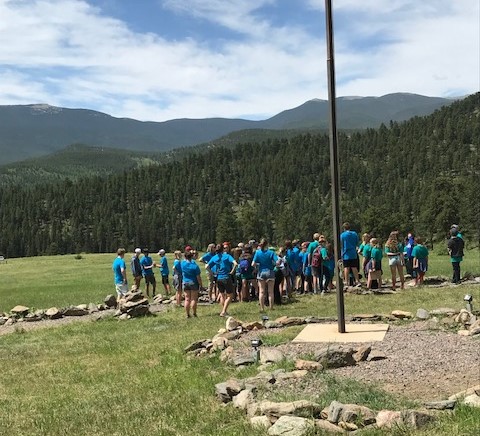 There's no better way to end the week than with a cookout; complete with hamburgers, hot dogs and cookies of course! The week concluded with a celebration where everyone came together to share stories of what they'd learned and their favorite activities they had enjoyed. It was obvious to all who attended; Outdoor Lab continues to make a positive impact and lasting impression on not only the students, staff and interns, but the families as well.
Thank you to everyone who spent time with us at Windy Peak and Mount Evans. We truly appreciate your continued support for such an awesome program!